Short Description
This products is the perfect addition for your outdoor space. Whether it's your yard, backyard, garden, or even poolside. lts versatility makes it suitable for a variety of applications. What sets this product apart is its ability to adapt to different weather conditions. With several louver positions to choose from you can effortlessly customize the experience to suit the current weather conditions. And two independent adjustable roofs allows you the best experience to adjust for different weathers and choose the most comfortable areas you like.
Material:
Aluminum, Alloy Steel
Frame Material:
Aluminum, Alloy Steel
Water Resistance Level:
Waterproof
This products is the  perfect addition for your outdoor space. Whether it's your yard, backyard, garden, or even poolside.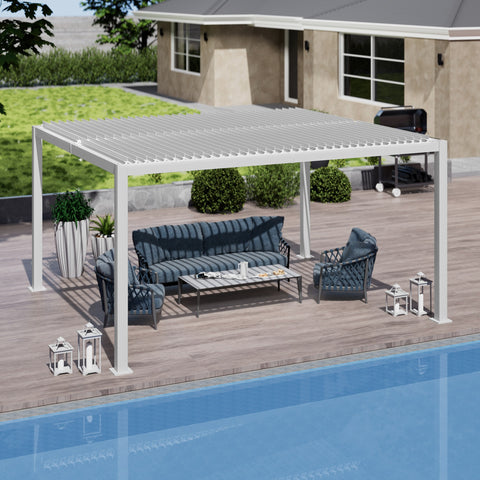 Main Structures and Features:
Base plates with 4 holes for Anchoring to Solid(concrete ground for strong Lasting.
( Anchors not included)
Water gutter design, water comes to  the outer poles, 
avoiding water accumulation on the roof and keeping dry underneath.
Independent Adjustable Louvered Roof. The two rows of louvers can be adjusted separately to offer you three different status options. Such as sunny, cloudy, snowy, and the comfortable convenience of continuous entertaining in light rain.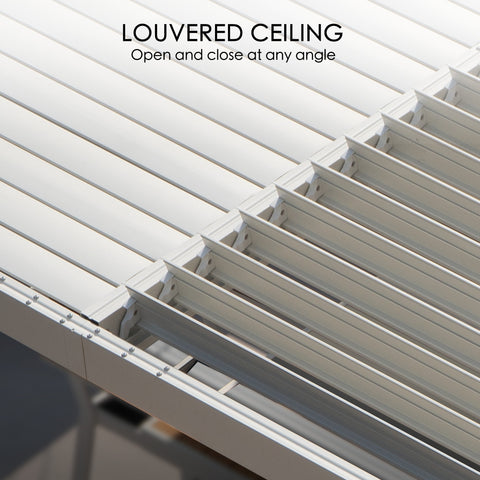 Enable Buy With Amazon Prime :
It fits my needs
This pergola is great. I have a east-facing patio and was looking for something to provide some shade. I considered some of the sail cloth triangle things but didn't want to disturb my patio with new footings and big poles. Once I found this I did some research and this was great value. It helps me shade from the sun, and I can also rest in pergola, which is the place I spend the most time and I really like it.
Kozyard Outdoor 12*14 Pergola
Product arrived in 5 boxes. It took about 2 hours to unpack and layout all the pieces to inventory. In about another 2 hours, I assembled the leg posts, side rails and roof beams. Definitely agree with other reviews that this will take about 8-10 hours and a lot of patience, but we are quite happy with it.
This pergola can adapt to different weather, so I can enjoy the outdoor life. Besides, I love this color, which makes my backyard bright and beautiful.
Beautiful and sturdy pergola
White is a very fresh color, my family and I like white very much. And the adjustable roof is a standout feature, as it allows us to customize the shade and ventilation to our liking. Rain or shine, we can comfortably enjoy our outdoor space, making it perfect for entertaining or simply relaxing with a good book. The quality of the aluminum construction is impressive, assuring us of its durability for years to come.
More than we expected
We recently acquired the 12*14 Pergola, this pergola has exceeded our expectations, enhancing our outdoor living experience in every way possible. It's a definite must-have for anyone looking to elevate their outdoor space.
Worth buying
This aluminum pergola rainproof gazebo with an adjustable roof has transformed our outdoor deck into a versatile and comfortable space. Its louvered design not only provides ample shade during sunny days but also shields us from unexpected rain, allowing us to enjoy our outdoor space regardless of the weather. The ability to adjust the roof to different angles has proven to be incredibly convenient, catering to our specific needs throughout the day. The durable construction and easy installation made it a hassle-free addition to our outdoor area. We couldn't be happier with our purchase, as it has truly enhanced our outdoor living experience.
Let customers speak for us